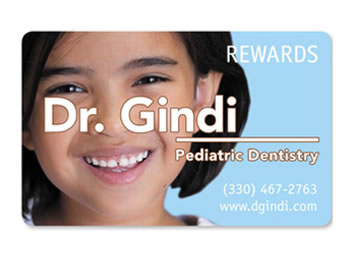 Establishing a healthy mouth is the cornerstone to ultimately creating a beautiful smile. This requires both a commitment from us and your cooperation. With that in mind, we are excited to offer a patient rewards program designed to encourage our patients' cooperation!
Points will be awarded for:
No cavities
Good oral hygiene
Referring a friend
Scheduling your cleaning and exam appointment every six months
Patients must bring their card, or a cell phone picture of the card number, to each appointment in order to receive their points. Each point is worth $0.25.
Mutual patients of Dr. Gindi and Dr. Valiathan have the option to combine their reward points. At any time while under our care, patients are welcome to redeem the prize, so long as their accounts are in good standing.
Once points are redeemed in office, patients can look forward to receiving an Amazon gift card, sent directly to the email address of the parent or guardian!
*No points awarded at emergency appointments.